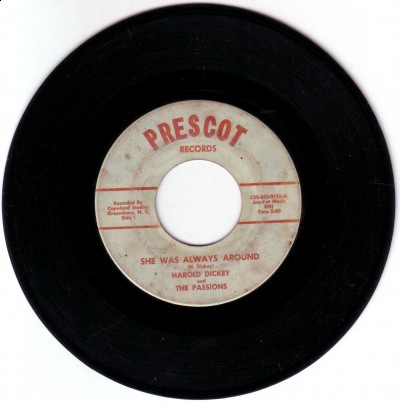 I've just completed my 8th Annual Carolina Soul "Thursday Night Feature" on WXYC 89.3 FM in Chapel Hill, North Carolina. The program is available for download below, in two parts, and the playlist, annotated with links for further reading, follows.
Part 1 features '60s and '70s soul and funk selections, most with dance beats:
http://www.carolinasoul.org/site/MP3/021810_part_1.mp3
Part 2 features '70s and '80s love ballads, a couple of slow cuts that defy categorization, and even a little soulful gospel for good measure:
http://www.carolinasoul.org/site/MP3/021810_part_2.mp3
Enjoy.
—————-
PART 1
—————-
Harold Dickey and The Passions "She Was Always Around" (Prescot) Further reading.
Chuck Wells "Why Did You Lie To Me" (ELL)
Chuck Wells "The Love Knot" (Goldleaf)
The Superiors Band And Their Soul Singers "Darling I Love You" (Barvis)
Clay Brown "Everybody's Talking" (Aljon)
Chuck Cockerham "Have I Got A Right" (Mala)
Moses Dillard And The Dynamic Showmen "Go 'Way Baby" (Mark V)
Prince Paul & The Swingin' Imperials "In The Beginning (You Really Loved Me)" (Parker)
The Originals Orch. "Who Dun It" (Sok-It)
[talkset]
Frankie & The Damons "The Man From Soul" (JCP) Follow-up 45 is on "Carolina Funk".
Soul, Inc. "What Goes Up Must Come Down" (Emblem)
The Nomads "Somethin's Bad" (Mo-Groov)
The Soul Set "Will You Ever Learn" (Bi-Me) Further reading.
Johnny White and the Mighty Crusaders "Physical, Healthy And Trim" (Valle-Dalle) Current website.
Jessie Woods "For Once In My Life" (Leo)
Eloise L. Jackson and the Bloommanets "Tender Loving Care" (United)
The Originals Orch. "Philly Dog" (Sok-It)
[talkset]
Souls Unlimited "The Raving Vampire (Pt. 1)" (Wigwam) Website of member M. Dupuy.
The Golden Toadstools "Silly Savage" (Minaret)
Sound Inc. "Go Away" (Aquarius)
Bob Meyer "I Only Get That Feeling" (Blue Soul)
The Opells "Day And Time" (Linco)
James (Mr. Soulfingers) Arnold "Your Chain Of Love" (Je-eeca)
Moses Dillard And The Dynamic Showmen "Pretty As A Picture" (Mark V)
The Magnificents "Mr. Kool" (Red Coach)
[talkset]
The Appreciations "No, No, No" (Aware)
Gene Barbour And Cavaliers "I Need A Love" (Hit) Further reading.
Kip Anderson "I Can't" (Tomorrow) Further reading.
Buddy Tee and the Thrillers "If You Don't Want Me" (Thrill)
Lu's Grooves to Satisfaction "The Time Is Now" (United)
The Funk Connection "Going Our Way" (TFC)
The Funk Connection "Dedication" (Strawberry Jamm)
[talkset]
The D. J. Band "Ridin' High" (Lake View)
Harry Deal And The Galaxies "Fonky, Fonky" (Eclipse) Current website.
—————-
PART 2
—————-
Moses Dillard & The Tex Town Display "We Gotta Come Together" (Shout)
Opus Seven "Hey Big Brother" (Source)
Manifest Destiny "I'm Missing You" (Mark V)
Exit "I Wanna Be Close To You (When It Rains)" (Rex)
Sudden Change "Used To Think We Were Lovers" (Blackout)
One-On-One "Why Must (It Be That Way)" (Digital Sound Studio)
Tanger Harris & T.M.S. Band "This Lonely Dream" (Showcase) Flipside was reissued.
[talkset]
Toby King "Operator" (Cotton)
The Saints "Love Can Be" (Wigwam)
The Travelers "Love Is A Part Of Living" (Love)
Dorothy Glass & Dorothy Glass Singers "By The Time" (TAP)
The Sensational Brown Sisters and Mother "Tribute To Friends And Relatives" (Florentine) Related to the Brown Brothers?
Laurence Miller & The Carolina Playboys "I've Never Been To Vegas" (JSJ)
Cal Brandon "I Kept On Smilin'" (Hit Man) R.I.P. Cal "Skeeter" Brandon (1948-2008).
[talkset]
Brown Sugar Inc. "Sweet Love Of Mine" (Impel)
Style "Do You Miss My Love" (Panda) Myspace page of guitarist Garry Percell.
Babay "In Her Eyes" (SoundTrax)
The Gospel Impressions "Simple Prayer" (Pro Sound)
[talkset]
Ivan R. Sturdivant "The World That Died" (Strategy) Further reading. Video.
The Funk Connection "Dreams" (TFC)
The Funk Connection "Good Night" (Strawberry Jamm)
Harold Dickey "Dance" (DBF)