Quite often folks searching the Internet hit the Carolina Soul site via some variation of the term "Moe The Rooster", and every few months, we field an email on the topic. The emails are never about the obscure Florence, South Carolina record label that put out at least two 45-rpm records in the early 1970s (listed in our South Carolina discography). Rather, they're always about the man behind the label, the late Mr. Lonnie Crews, aka Moe The Rooster himself, a successful businessman who operated a record shop and photography studio on Dargan Street in Florence, disc jockeyed on WYNN FM, and most famously to the denizens of the Pee Dee region of South Carolina, hosted a talent show every Saturday on WBTW TV 13. While no video footage from the series seems to have survived, the August 1974 issue of national R&B rag "Soul Teen And Soul" does contain a full-color write-up on the local legend's TV and radio activities. We are sharing it here because at the moment, we have at least two requests for pictures, and we know even more of you who come across the site may too like to reminisce: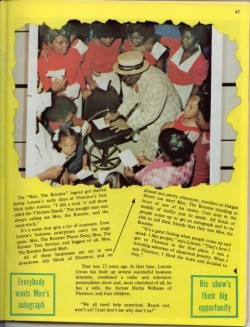 Thanks to South Carolina-based collector Rick Sutton, we are also extremely lucky to be able to share a short montage of audio from the talent shows, circa 1974, below. Enjoy.
p.s. On a future Sunday, keeping with our new ritual of uploading Carolina gospel tracks for your auditory pleasure, we will pick and upload a side from the Southern-Airs release on Moe The Rooster Records.
Moe The Rooster, Talent Show Montage, 1974