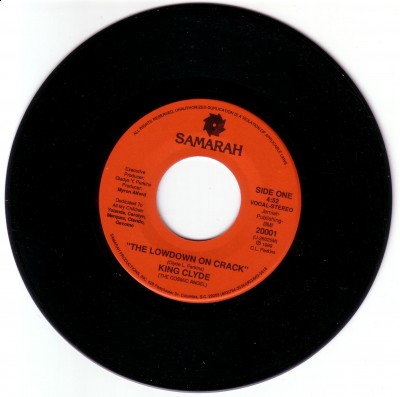 While we are on the topic of Florence, South Carolina, and because only yesterday, after several years of searching, I finally secured a copy of "The Lowdown On Crack", here's a tribute to its maker, the late King Clyde Perkins. Exactly five years ago today, on February 16, 2005, Mr. Perkins' name came up in conversation with a Florence radio disc jockey who was chatting with me about 1960s- and 1970s-era bands from the area. I had previously never known anything about a record I had by a Soul Impossibles band (but check the songwriting credits):
Musicians traveled from all over the state to record in Columbia, so the Impossibles could have been from anywhere, and I was grateful that the DJ remembered them and was still in contact. The next day I spoke with Mr. Perkins himself and learned that in 1963, when he was fresh out of Wilson High School in Florence, he formed his first group, the Royal Scots, who lasted for only a year. In 1967, he formed the Impossibles, who made the record near the end of their tenure in 1971, and who toured as far north as New York, playing gigs there for a week straight. Trumpeter Ivory Joseph has held onto these photos from a break in the action on Atlantic Beach, back in the Carolinas:
After constantly being on the road for four years, Mr. Perkins wanted to do something different, and in 1975, he started disc jockeying himself, using the handle "Cosmic Angel". In 1977, he opened up his own club, the Celestial, and then in 1979 moved it to a bigger spot, the former Po Boy Club, which he renamed the Celestial II and kept open for six years. Billboard was hip to his sound-system activities in the Florence area, including a trademark innovation dubbed "Live Style", and this small feature was printed in 1981:
Eighteen years in the making, 1989 saw a follow-up release to "Soul Power No. 1". Mr. Perkins penned and rapped "The Lowdown On Crack" and released it in conjuction with the Columbia label Samarah, which was owned by members of one of that town's most successful '80s R&B outfits, Midnight Blue. I've only ever heard about this record from the artist himself, but he didn't have a copy on hand, and it was exciting to finally find and hear one elsewhere. We hope you enjoy what sure seems like an extension of his socially-conscious message first put forth in the '70s.
Meanwhile that first document "Interpretation - Soul Power No. 1" can be heard on the Jazzman/Now-Again "Carolina Funk" compilation. The cover image of the domestic version also came from Ivory Joseph's archives. Mr. Perkins and Mr. Joseph met with us in the summer of 2006 to reminisce, lend us photos, and license the Soul Impossibles track, but sadly Mr. Perkins passed away before its reissue. We dedicate this posting to you, King Clyde Perkins, the Cosmic Angel.
"The Lowdown On Crack" by King Clyde